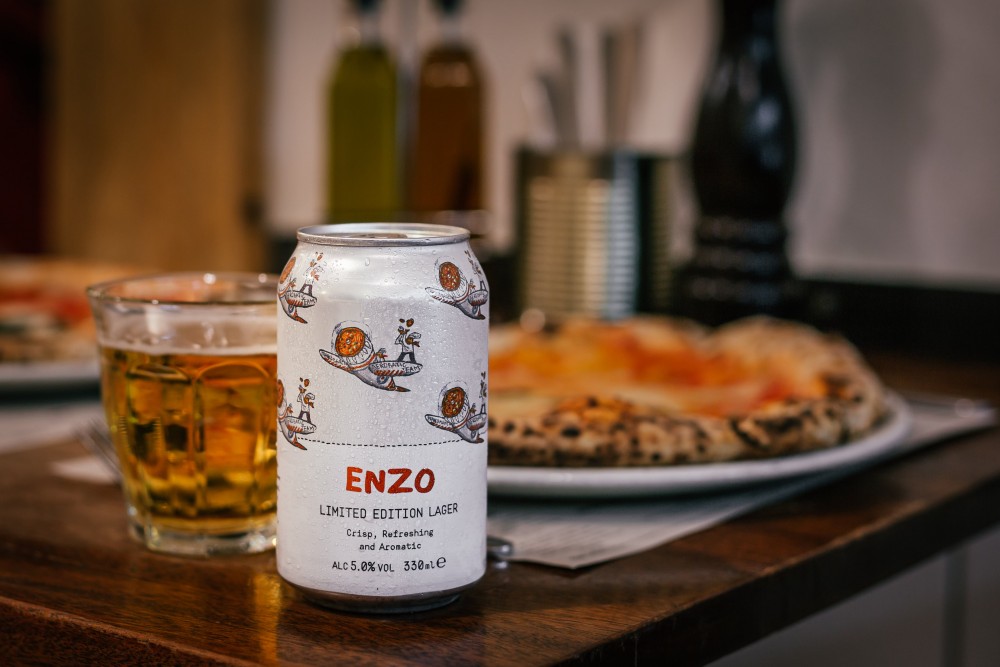 The Enzo project
Guest beer and local artists. Our pizzerias have featured artwork by our friend, the late, great Enzo Apicella (1922-2018) since we opened in Brixton Market in 2008.
He designed the murals in our Chiswick, Wimbledon and Guildford pizzerias, and you can see his artwork framed on our walls around the UK. We continue celebrating his legacy today via The Enzo Project.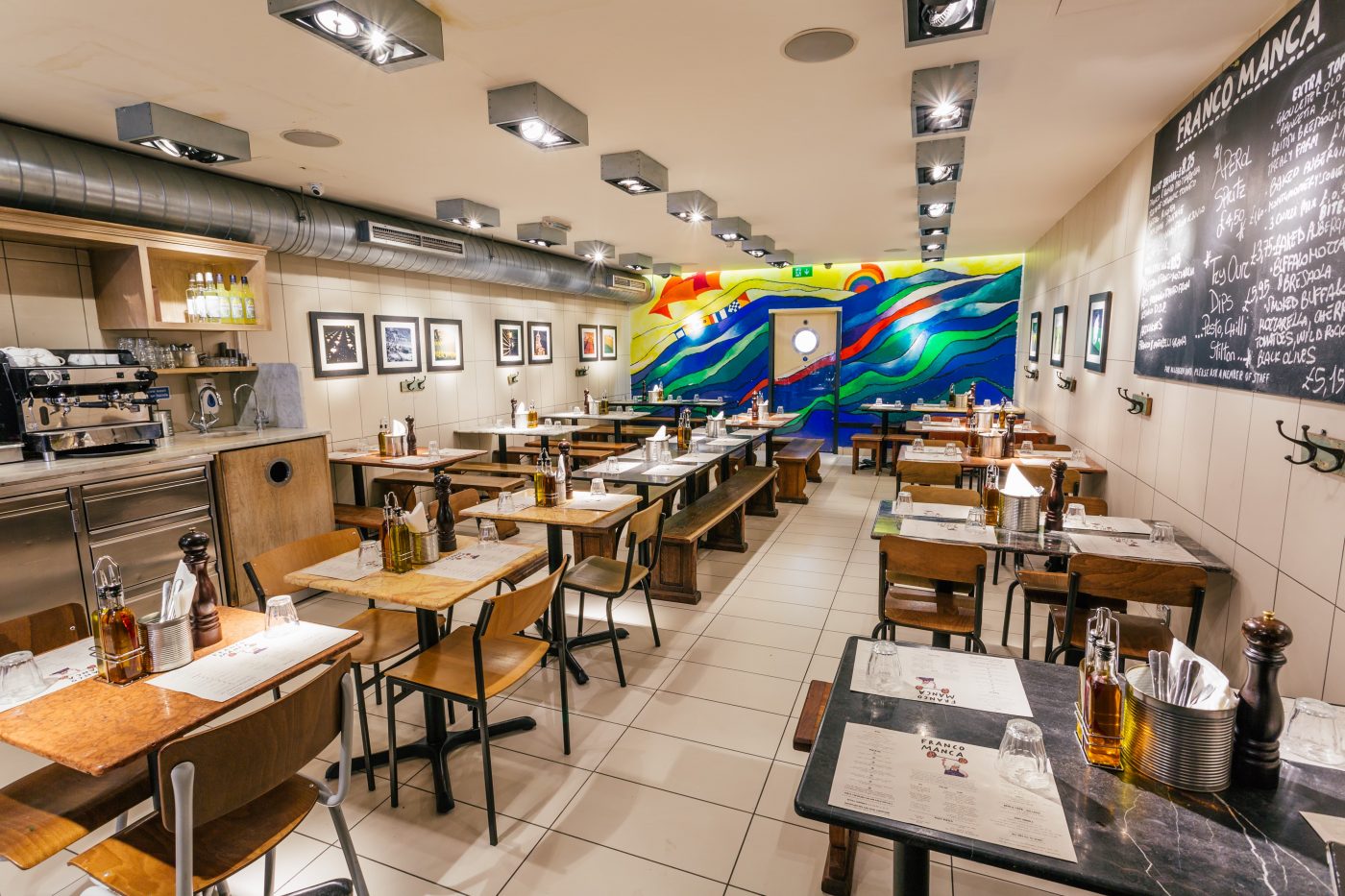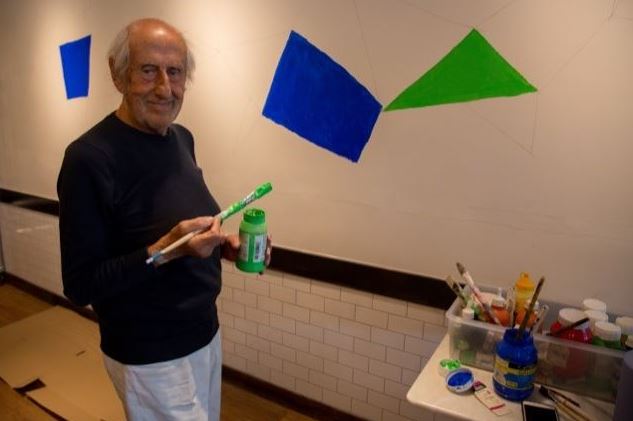 Paul Davis originally designed the Franco Manca swirl and typeface. He has travelled the length and breadth of the country to speak to students about Enzo, art, work and professional life after university. He asked the students to interpret their own Franco Manca style – to create art focused on our sourdough, ingredients and Neapolitan heritage.
We have been visiting some of the art schools, colleges and universities local to each new Franco Manca, to find the next generation of artists. We asked the students to produce art for our pizzerias, to hang alongside Enzo's work.
We first started working with local artists for our Cambridge opening in 2018. Look out for the work of PhD student Sofia Greaves on the walls in our Cambridge pizzeria.
To honour Enzo's legacy, we have also launched a limited edition craft lager named 'Enzo' after the man himself. Find it on the menu in all of our pizzerias.
We have also launched a range of limited edition T-shirts featuring Enzo's illustrations. You can buy this with our pizza in the post kit or buy the t-shirt on its own here.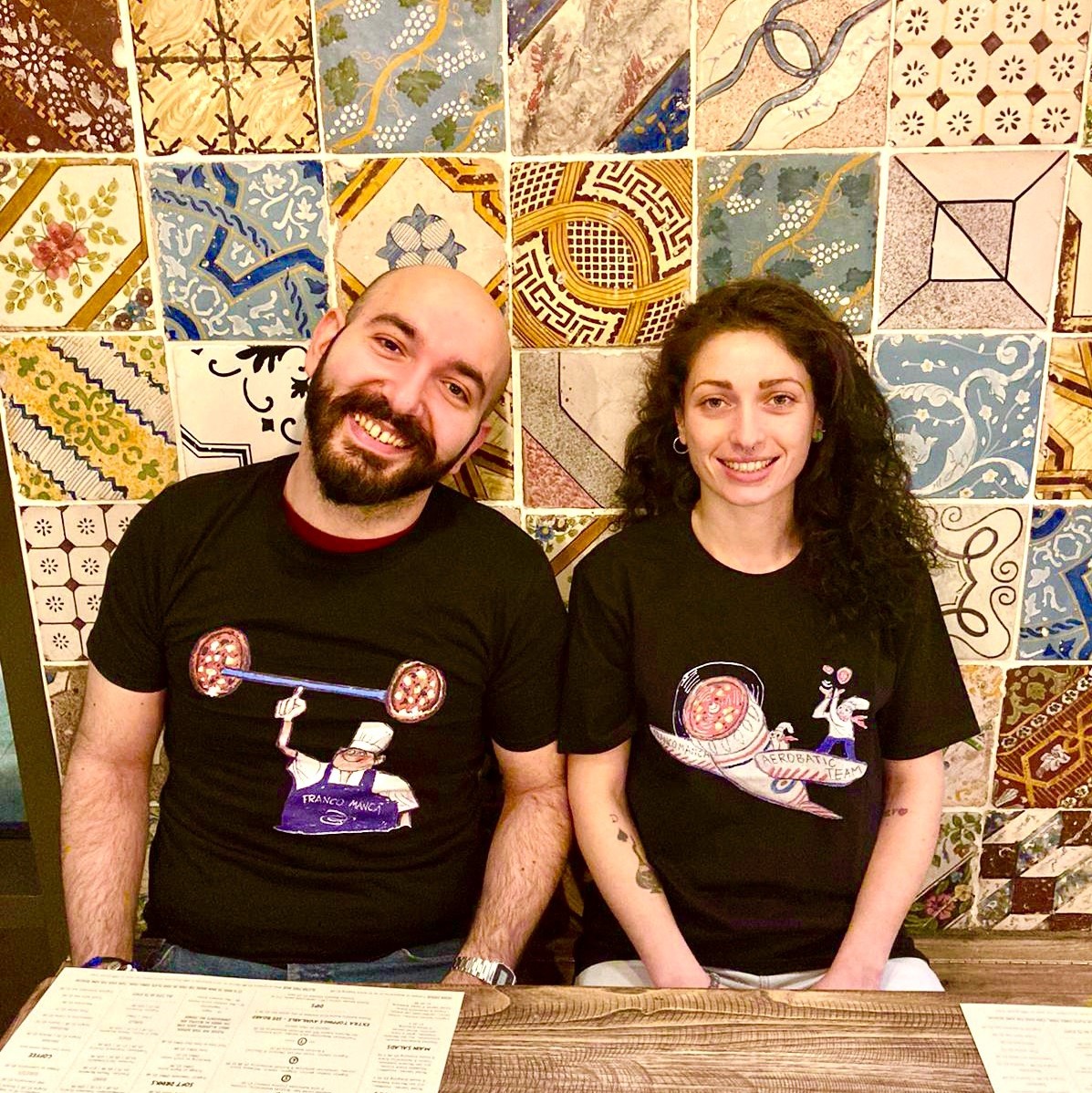 Read all about our student artists below: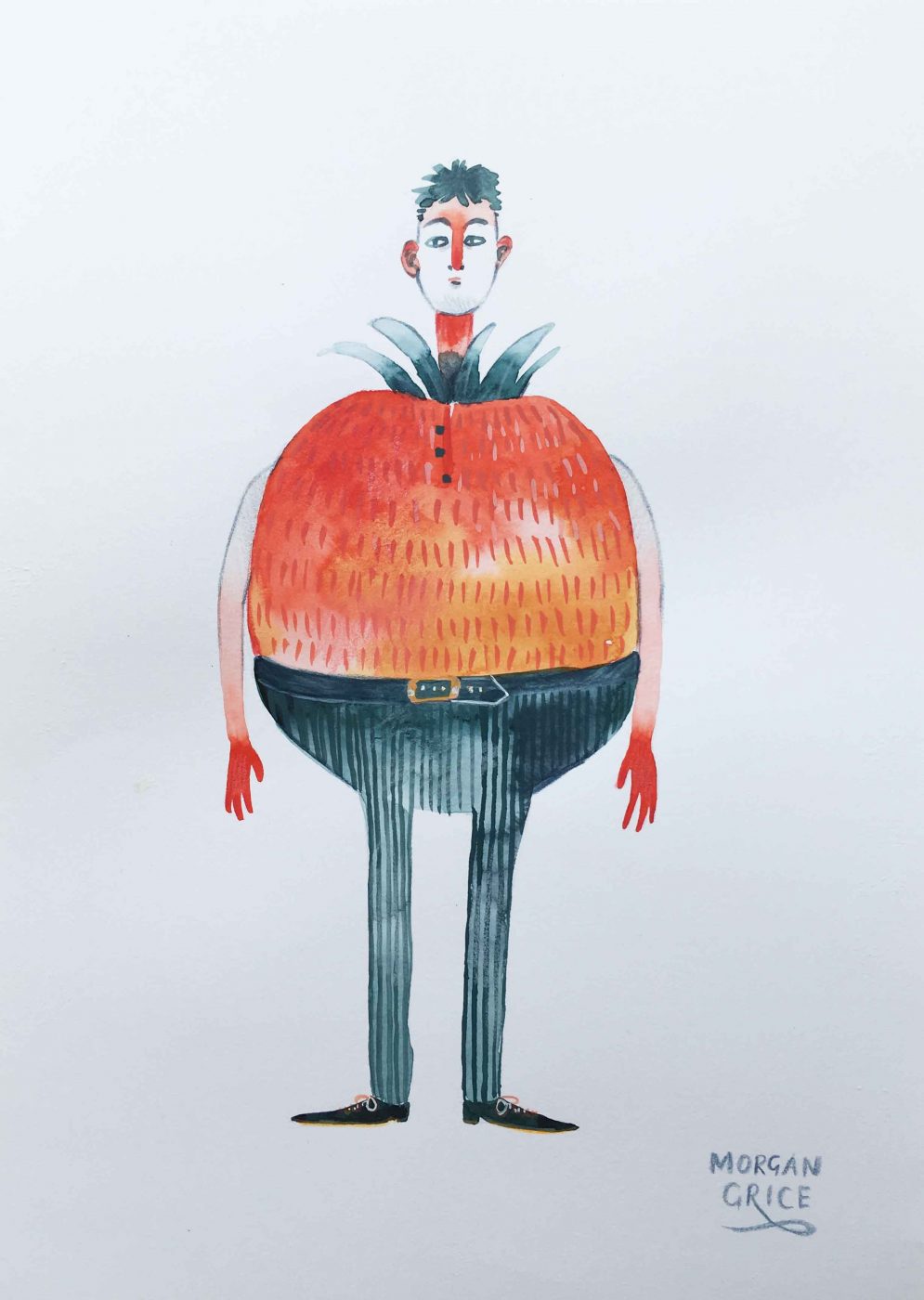 Birmingham, Birmingham City University
Morgan Grice
Morgan is a student at Birmingham City University. She's an illustrator specialising in traditional media, who uses watercolour, gouache and coloured pencils to create her work. She used colours reminiscent of both the Italian flag and Enzo Apicella's work to create these pieces.
'With stories being the backbone of my work, I wanted to express the excitement, delicious taste and history of FRANCO MANCA'S food with the paintings, whilst maintaining a fun and playful style.'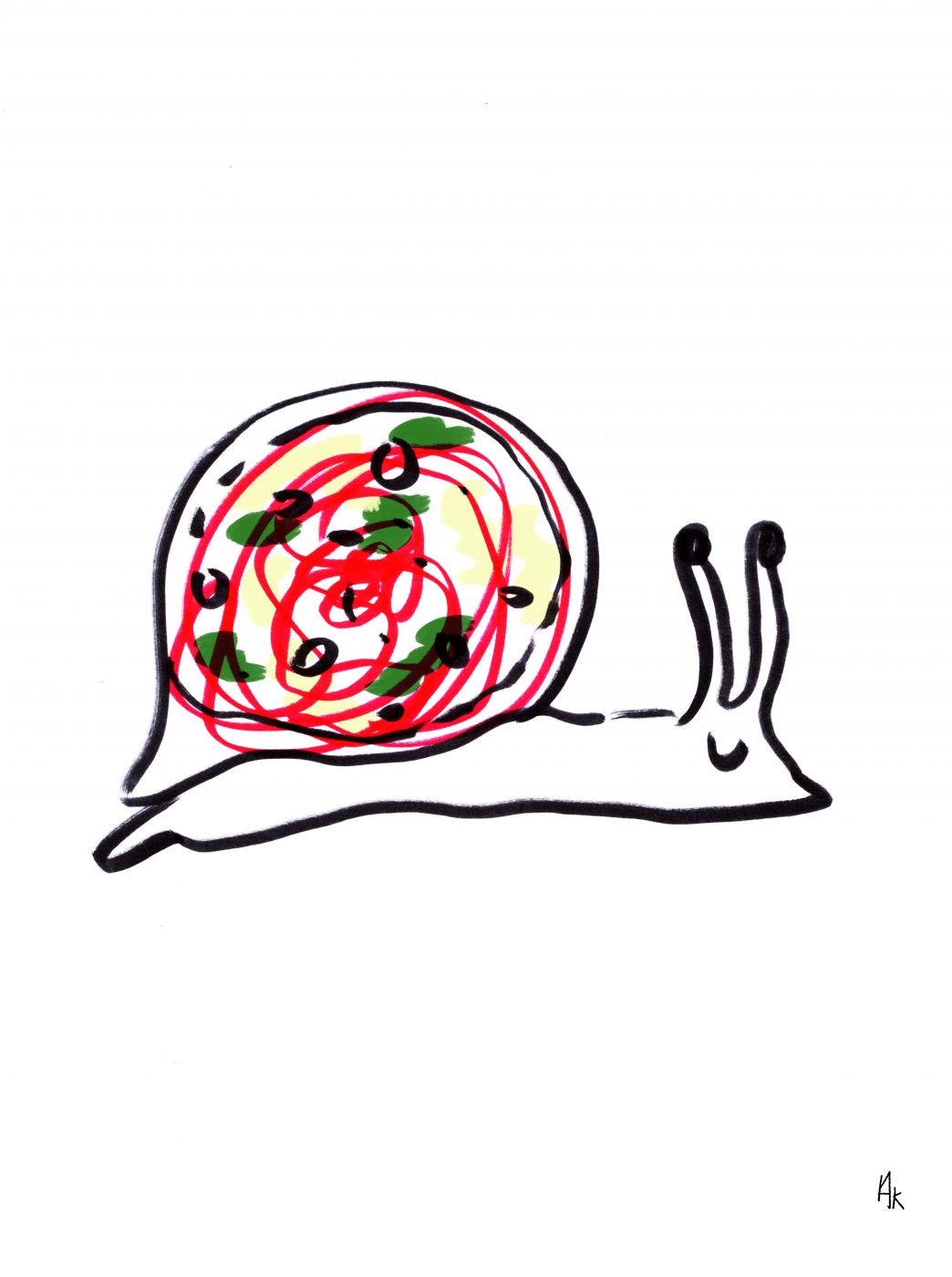 Arthur Kearns
Arthur is also a student at Birmingham City University. When asked how he came up with the idea for his work, he said 'I wanted to play with the weird, placing pizzas where pizzas should never be and finding humour in the bizarre'.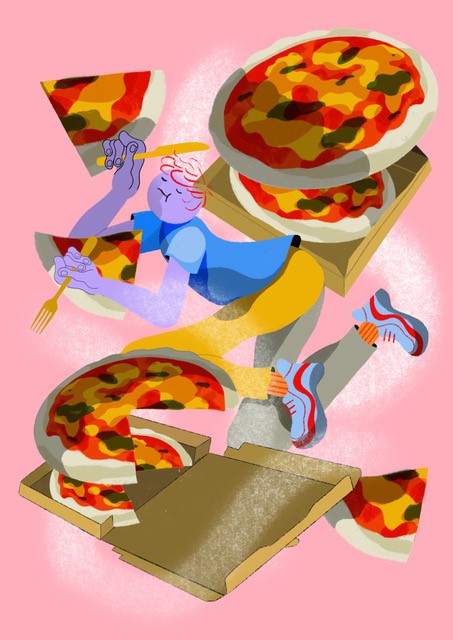 Exeter, The University of Plymouth
Scotty Gillespie
Scotty is a student at the University of Plymouth. He describes his work as emotionally driven, stating that he was inspired by Franco Manca's passion, innovation and love for pizza. 'I wanted to take the viewer on a culinary journey from the collecting of ingredients, to making the dough, serving and the feeling you get when you have taken a bite out of the best pizza ever'.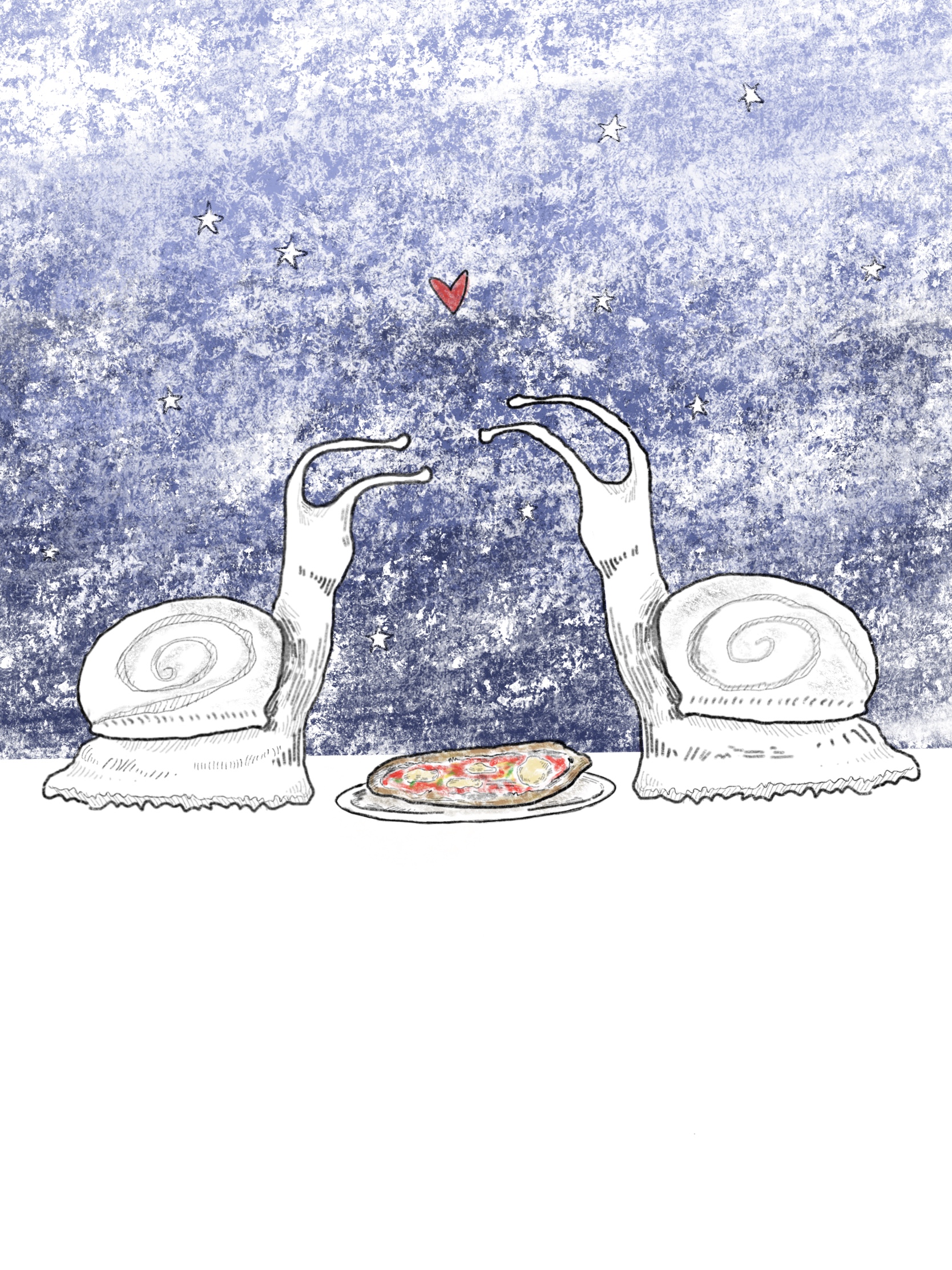 Katie Bullimore
Katie likes work that is small and sweet. Two snails that are slow to meet, but fast to fall in love, is one of the first ideas that came to mind when she thought of enjoying a pizza with someone you care about. These snails' little story grew from there.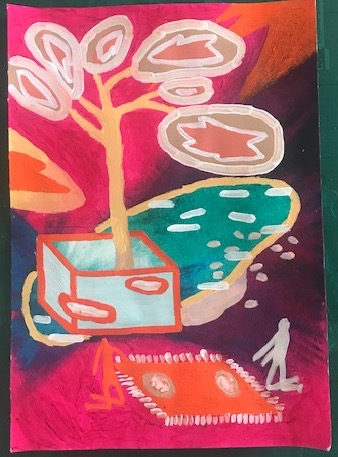 Edinburgh, Edinburgh College of Art
Gavin Gillon
Within this series of work, I wanted to portray the craftsmanship and passion that goes into making great pizza. Having researched Franco Manca – and the philosophy used to create Neapolitan style pizza – I envisioned a sensational world of love and community. In the pieces, pizza makers tend to their creations in the ovens whilst friends come together to share their love of quality ingredients.
Gavin used acrylic on paper to create this work.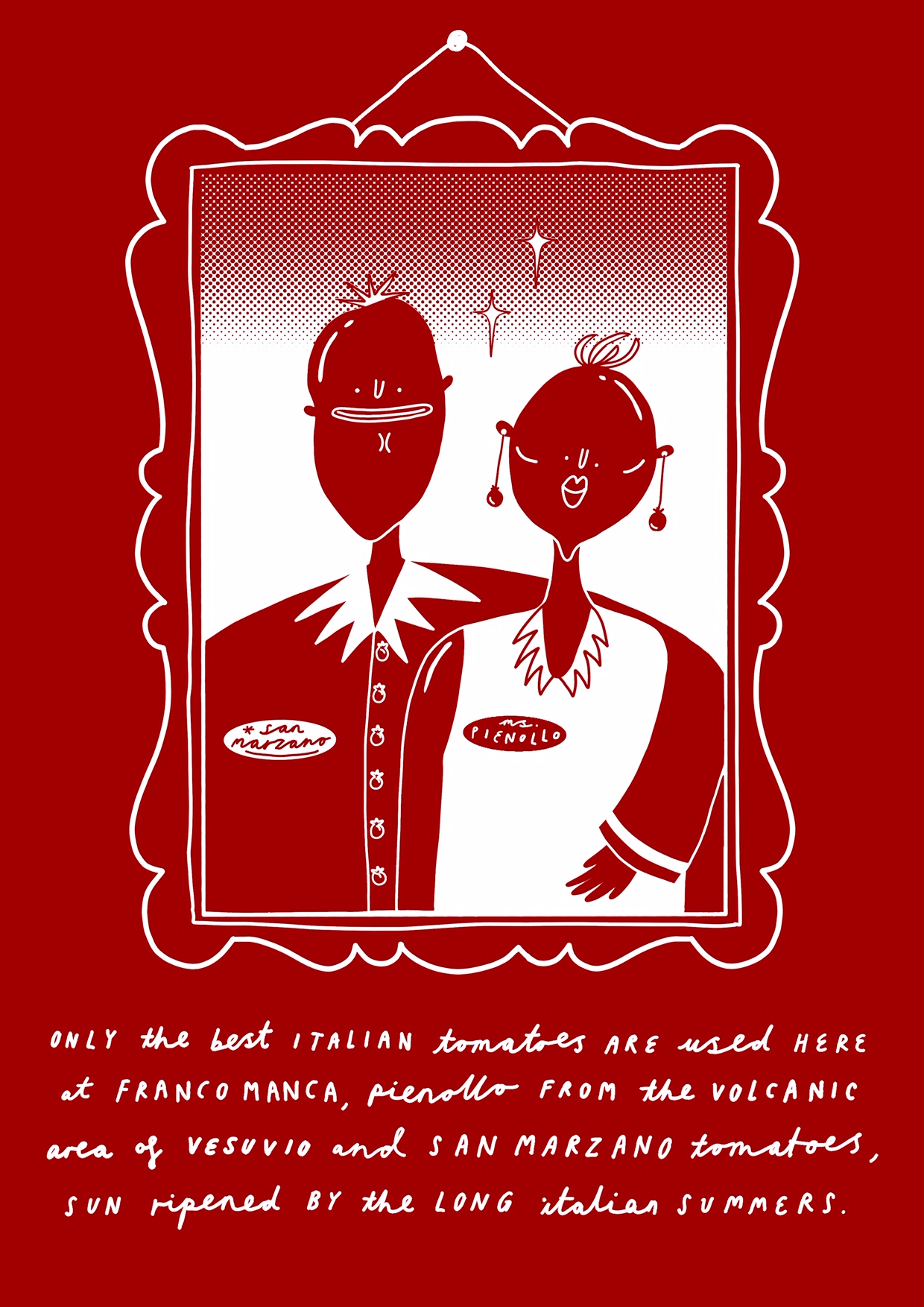 Leeds, Leeds Arts University
Sofia Johnston
Sofia's work features the ingredients used in our pizzas. She used a touch of imagination to transform them into strange characters with personalities, such as the wild garlic. Looking into the origins of the ingredients and created her own interpretations of how they could be visualised.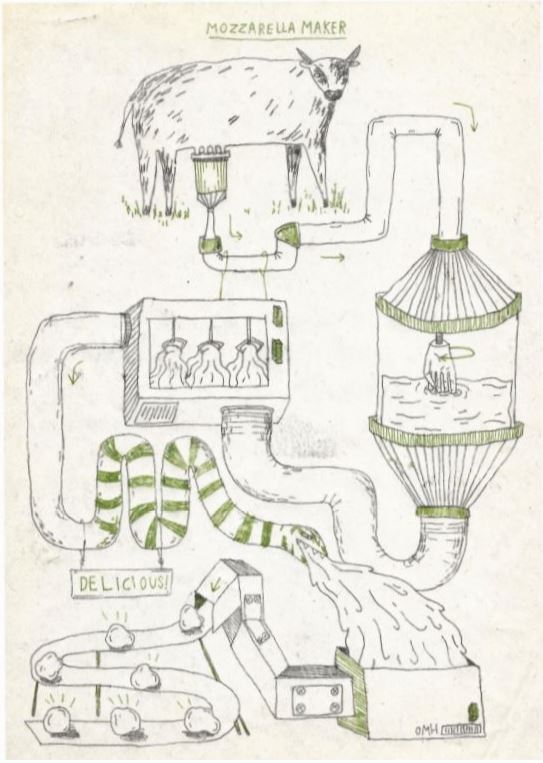 Olivia McEwan-Hill
Originallly from Worcester, Olivia is now a student at Leeds Arts University. She created fantastical explanations for the production of the ingredients in Franco Manca pizzas, inventing picture soups to create a magical world that has delicate notes of humour balanced with a full-bodied analogue working style.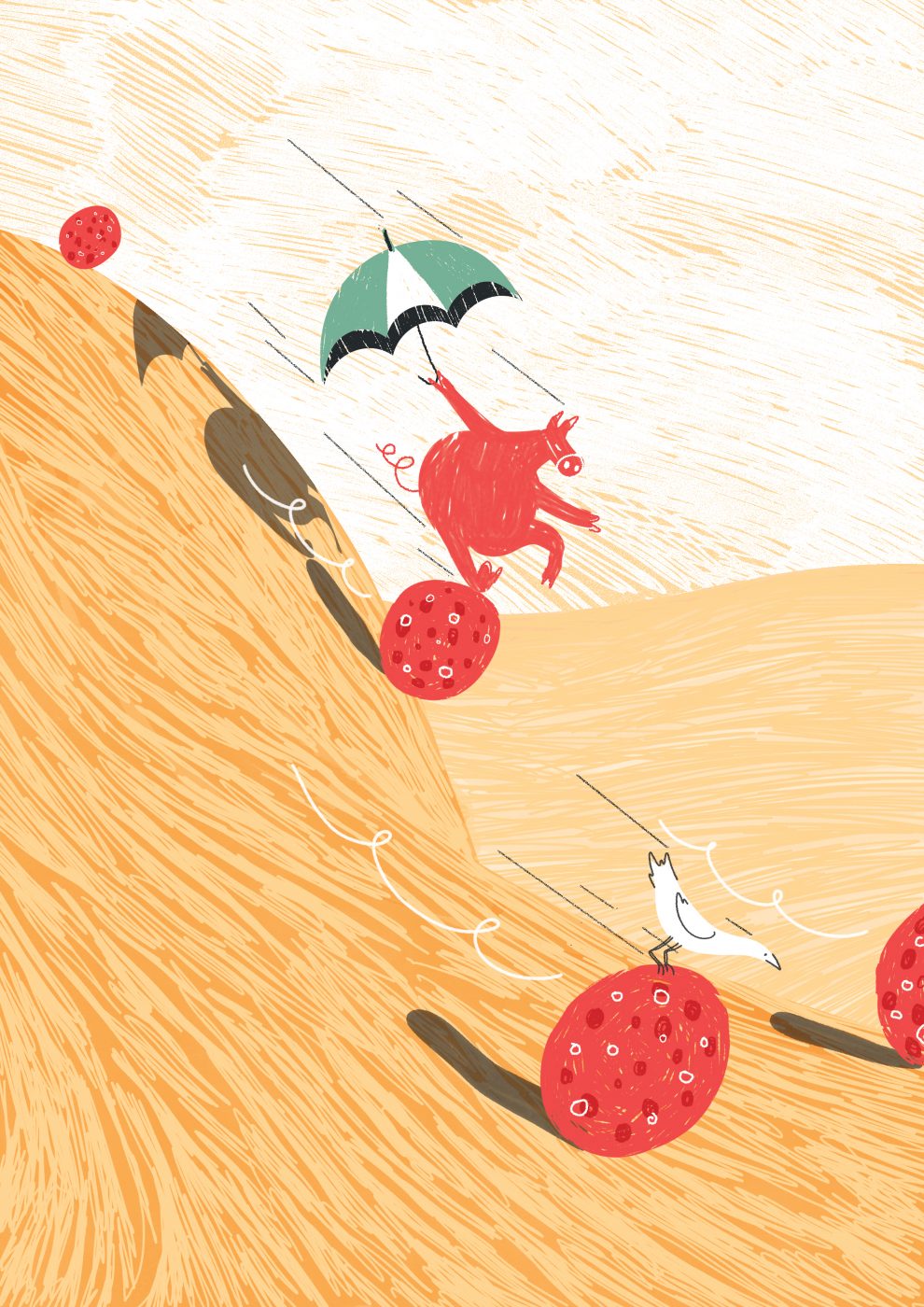 Imogen Fancourt
Dough making is a magical and fascinating journey. Imogen's work follows a solitary traveller as he observes the different stages in pizza-making from a new perspective.
Research into sourdough and its 18th century beginnings began the artistic process. The project then culminated in the surreal exploration of making bread, and the ever-surprising transition from a live culture of flour, water and yeast, to a versatile, very much alive, dough.
The intention of the artist is to remind us of the complexity and wonder that is artisan bread-making, and the individual journey that each pizza makes from mixing bowl to plate.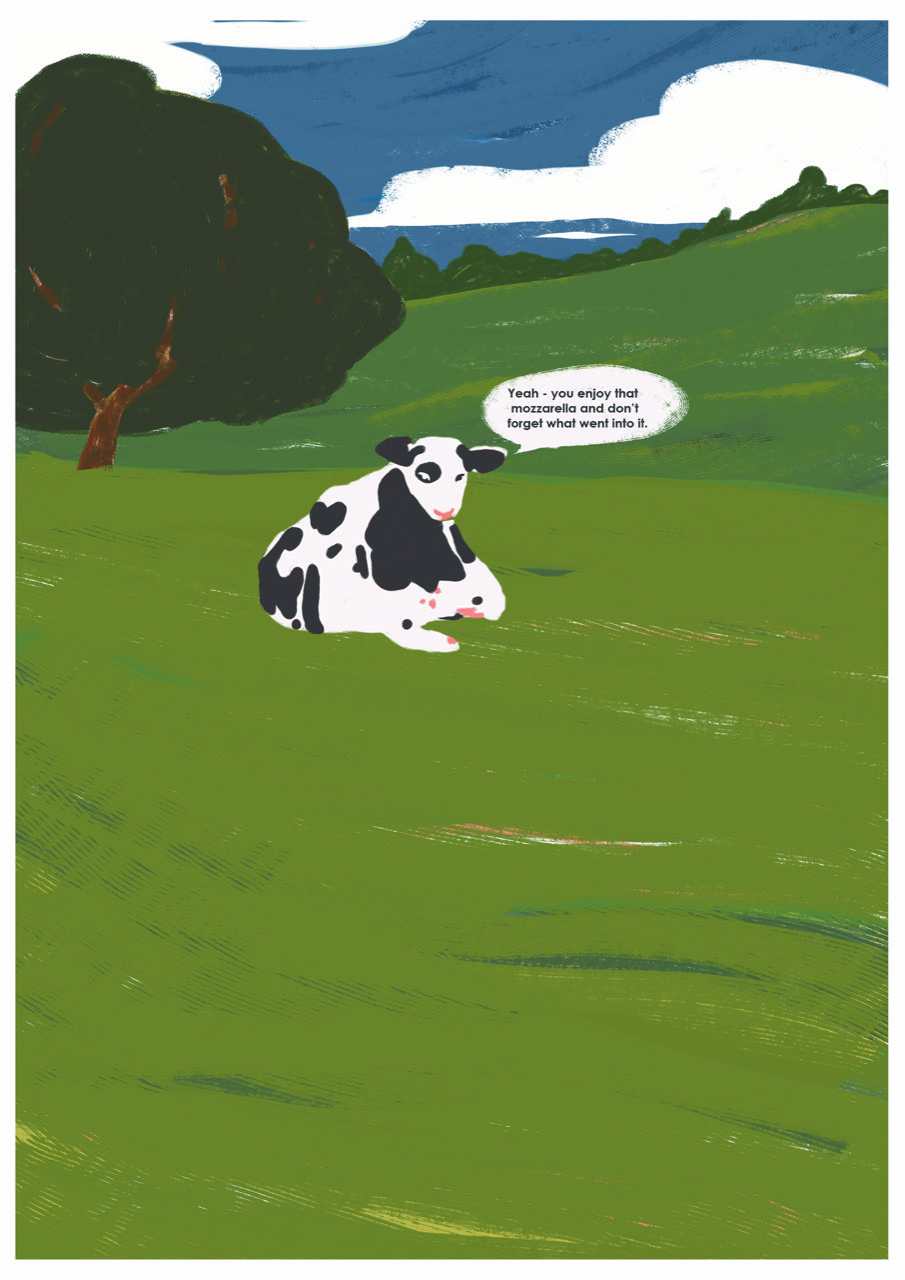 Manchester, Manchester Metropolitan University
Jan Randen Bautista
Jan's work was initially a cow suggesting that viewers try the salad of a pizza restaurant, then progressing to dark humour, reminding them where mozzarella comes from.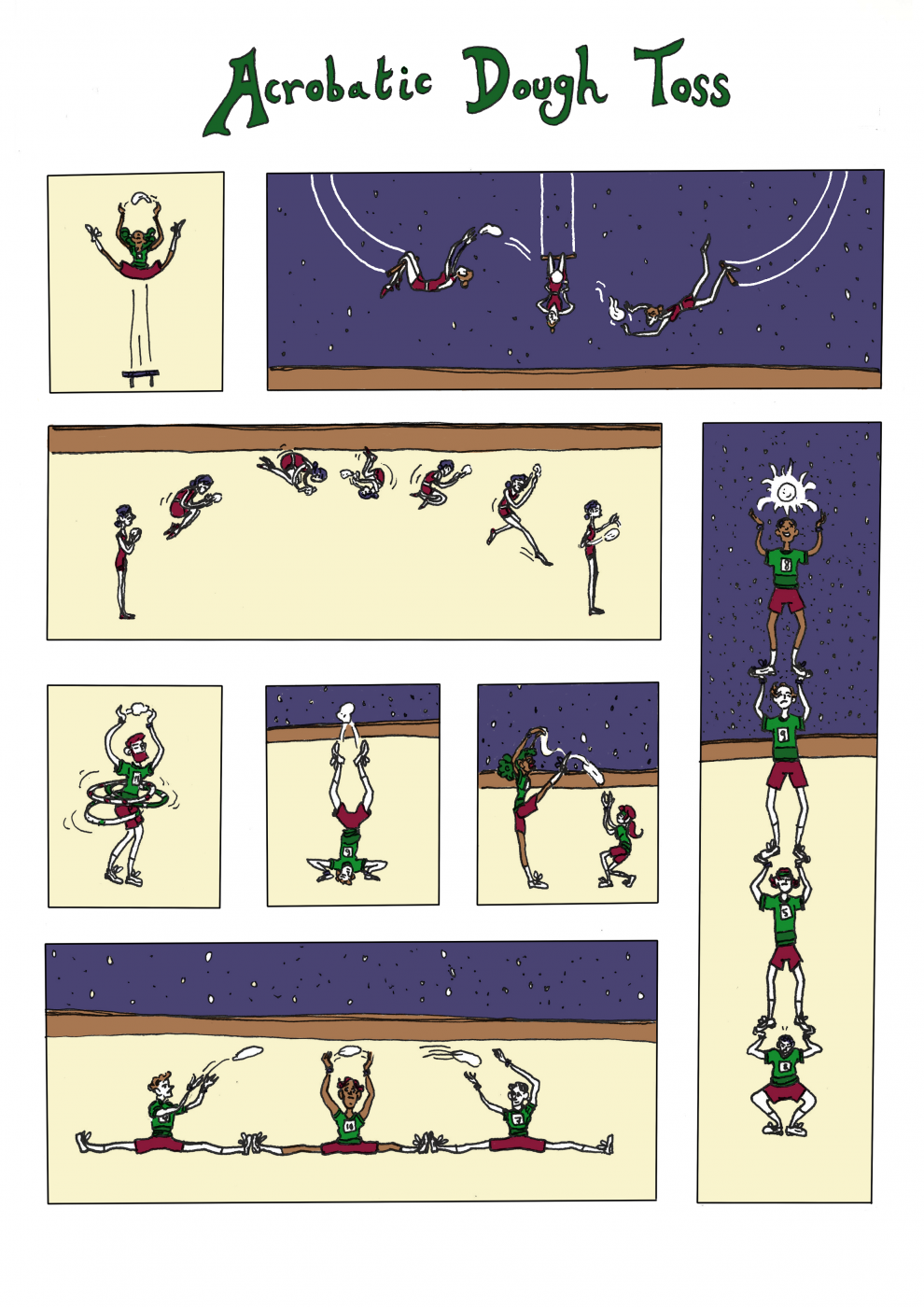 Eileen Maria Vanden Broeck
This series of Illustrations is a reimagining of Olympic-style pizza making competitions. Elieen has portrayed pizza-inspired themed events such as the 'Acrobatic Dough Toss' and 'Largest Dough Stretch' in a literal, whimsical way by depicting dough stretching across the entire planet and tossing dough while doing gymnastics.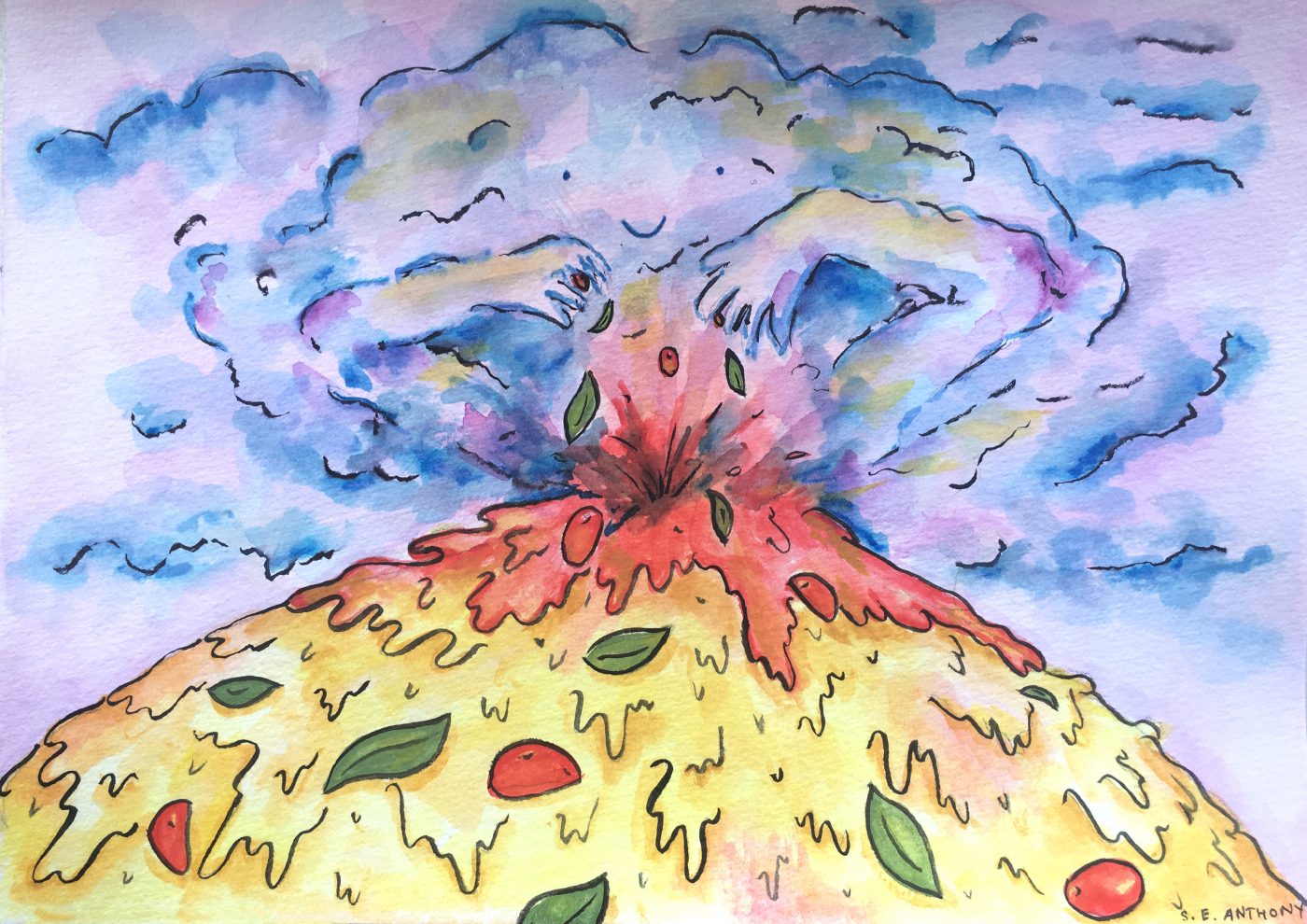 Sarah Anthony
Sarah is inspired by the possible narratives of the world around us, and how our imaginations can transform the mundane. What is simply a pizza to one person, is a whole other world to another…
She began by working with watercolour for the softer tones and shadows, before transitioning to inks as she loves the fluidity and vibrancy they give. For this series, she accented with gouache and coloured pencil.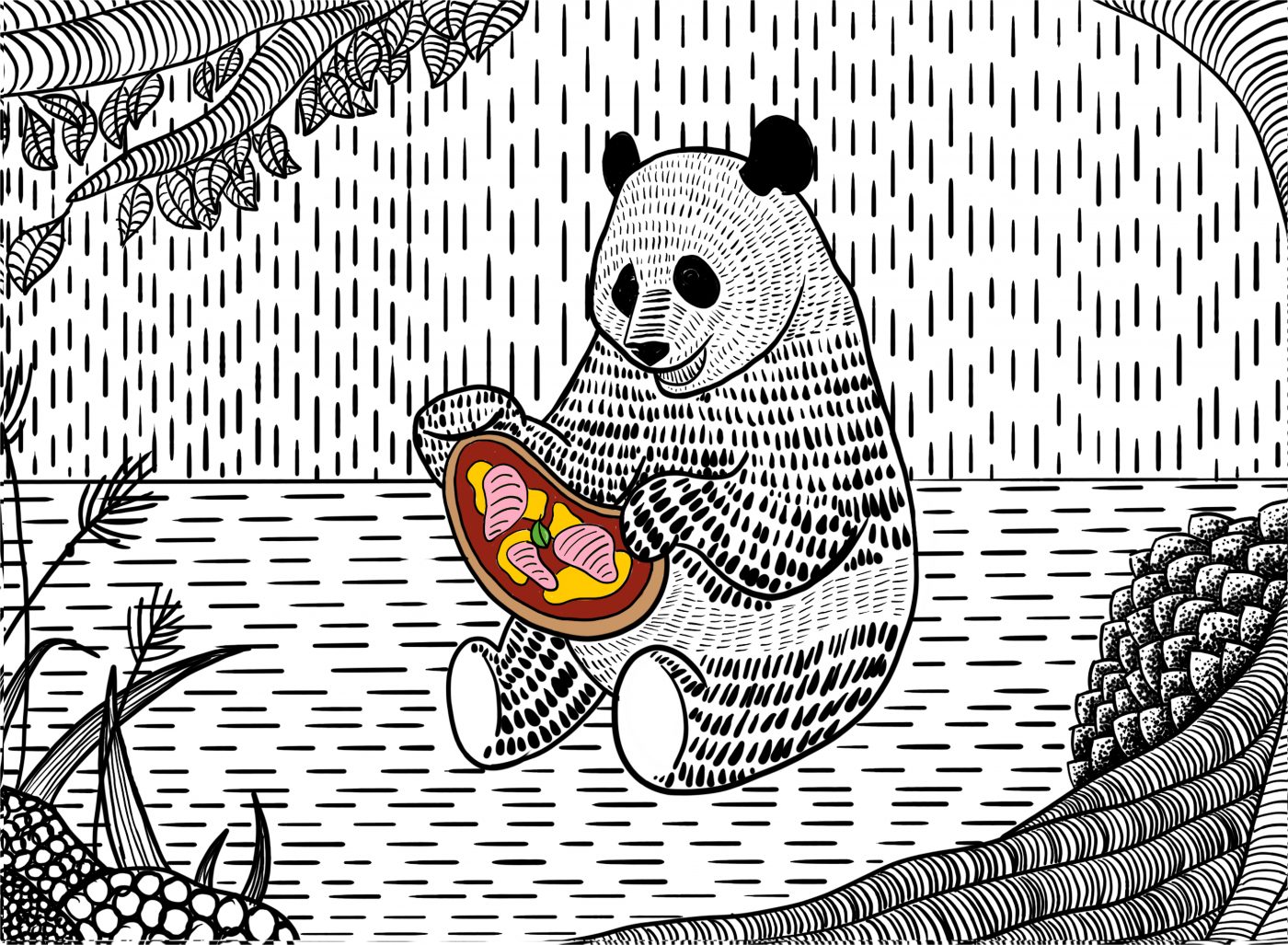 Bishopsgate, London College of Communication
Zuzanna Milancej
'I was inspired by the best pizza I have had the opportunity to taste as well as the texture and feel of a lino print and the unpredictability of hand printing.'
Zuzanna said that the humour captured by Enzo Apicella's work sparked the strange atmosphere and misplacement of objects in her own illustrations, portraying a series of endangered animal species, bringing further awareness to the effects of the modern world on nature.
Laila Shawli
Laila's artwork was inspired by the beauty of what is inside the human brain and what the brain nerves look like when a hormone is taking action while eating in a Franco Manca restaurant.
'I created my art work using acrylic ink and gauche with exaggerated colours to demonstrate the endorphin hormones in action inside of every person eating the pizza with enjoyment.'
Her style and colours are inspired by the dynamism in Enzo Apicella's work.
Marco-Antonio Grubben
Marco-Antonio paid homage to Enzo Apicella's colourful style and the beautiful simplicity of pizza. He said 'I decided to portray the 5 steps of making Italy's most beloved dish: the pizzaiolo prepping the ingredients, the woodfire roasting, the waiters delivering and you, the client, indulging amorously into a real Franco Manca pizza.'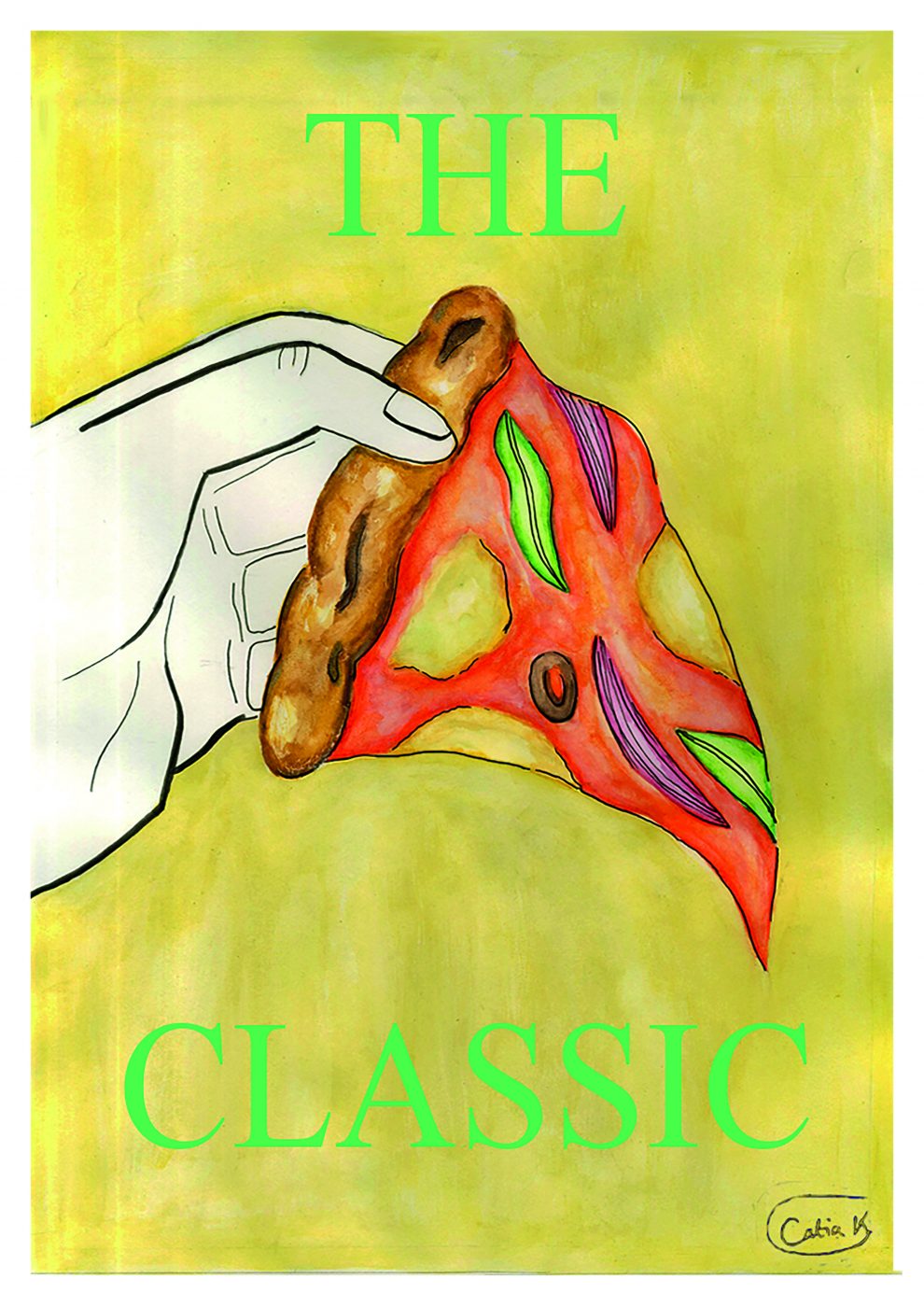 Catia Kelleher
Catia created a concept showing how we all have different ways and preferences to eat pizza, meaning it is always versatile for anyone to enjoy. How pizza is eaten seems to vary in different countries or according to individual liking.
'I chose intriguing titles to describe the eater's character depending on which technique they commonly use. I hope the customers can engage with my concept while enjoying their tasty Franco Manca pizza.
Still hungry? Go for seconds.
Bringing Napoli eating culture. Closer to you.
Find a pizzeria near you. Then eat your crusts.